Home

Courseware

Course


Listing


Instruction

Philosophy

Clients

Publications


Résumé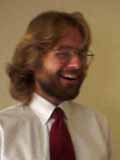 Siegfried Heintze is a Software Developer involved in research, software development and training. He consults and writes in many areas of Software Developement and specializes in Object-Oriented Analysis, Design and Programming. He has developed and taught courses on these subjects in Japan, Europe, Canada and the United States. He has contributed articles for C++ User's Journal, Software Development, and Journal of Object-Oriented Programming (JOOP).
Professional Background
View résumé as Microsoft 2003 Word document (updated April 26, 2023)
Please contact Siegfried to arrange for rapid, custom courseware development, or to inquire about his availability to deliver training to your organization.